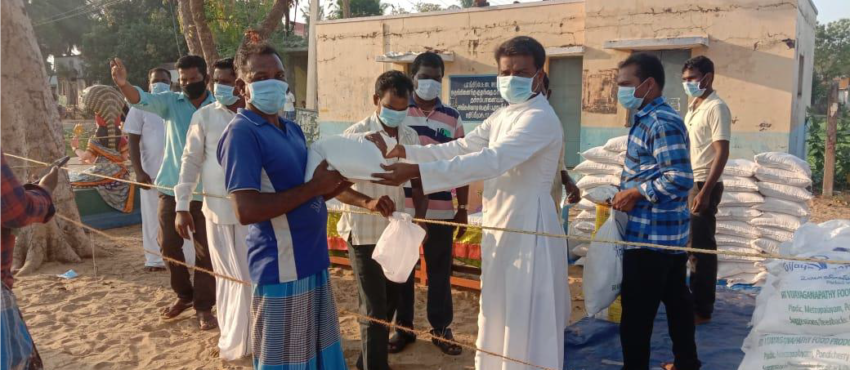 As the COVID-19 pandemic continues on its deadly path across the world, our MSCs are unwavering in their dedication to protect and defend those most in need.
Here at home, far too many lives have been lost and our economy hangs in the balance as a result of the coronavirus pandemic. Can you imagine, then, the effects of the coronavirus in developing countries, where sanitary facilities are minimal at best, and people are already struggling to scrape a living from next to nothing? Our MSCs are doing their best to help those who were fighting for survival before the advent of COVID-19, and who are now frankly desperate.
This summer, we are sharing some of the ways in which our MSCs have been working to provide COVID relief aid around the world. We have seen mass funeral pyres in India, a death toll surpassing 500,000 people in Brazil, and communities in the Philippines attempting to fight the virus while villages are swept away by typhoons; many, many people have found themselves in a living nightmare over the past 16 months, and our MSCs are doing their best to provide relief in every way they can.
From our own homes to the national economy, the coronavirus pandemic has had a devastating impact on us all. The virus has been savage in its effects here at home, while its impact has been even more hard-hitting in regions where people were already struggling with poverty, illness, and hardship before the pandemic began. The compassion shown by our mission friends at this time is a true reflection of God's grace and the inestimable value of human kindness in a time of real need.
Below, you will find some of the COVID relief projects that currently need our immediate attention, and we would be very grateful if you would consider lending your support.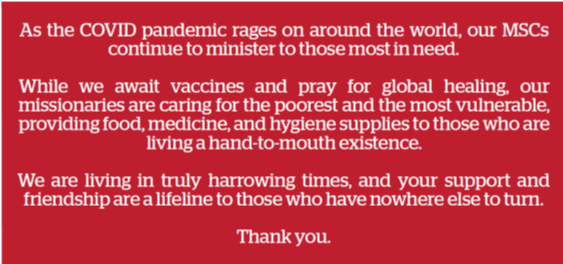 Click the images below to find out more about our MSC COVID-19 Relief Projects.
Thank you from Fr Michael
Dear Friends,
On behalf of our missionary communities everywhere, I thank you for allowing our MSCs to continue with their essential work around the world at this time of crucial need. This summer, as we harness hope for the months to come, the word that's ringing in my heart is "compassion". We have seen compassion in action in so many ways in recent times, and I thank you, truly, for extending your compassion to bring hope to our MSCs doing their best to protect those in regions being swallowed up by fear and despair.
Truly, your compassion is God's love in action as our MSCs work to help the poorest and most vulnerable in the grip of this monstrous virus.
Your support helps us to generate this hope in regions of urgent need, and it is with hope in my heart that I keep you in my prayers as we embark on this new road of recovery and redemption together. At the beginning of the pandemic, Fr Richie Gomez MSC reflected, "Suddenly, we understand the value of the words 'solidarity,' 'love,' 'strength,' 'empathy,' and 'faith'." Over a year later, his words continue to ring true. May we continue to find strength in love, in faith, and in each other, and may God bless you always. With every grace and blessing of the Sacred Heart,

Fr Michael O'Connell MSC
Director of the MSC Missions Office