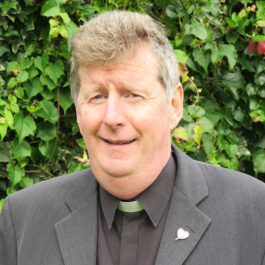 Fr John Fitzgerald
Missionaries of the Sacred Heart
Fr John Fitzgerald MSC was appointed Missions Office Director for the Irish Province in January 2022. Based at the MSC Missions Office on the Western Road in Cork, Fr John is in regular communication with MSCs and our mission friends across the Irish Province and beyond.
In his role as Missions Office Director, Fr John is responsible for the efficient running of the MSC Missions Office in Cork, particularly the fundraising department. He is instrumental in the organisation of MSC fundraising appeals and regularly celebrates Novenas and special ceremonies in the Sacred Heart Church.
Fr John is one of the main links between MSC missionaries in the field and the people who support them here at home. He keeps in regular contact with our overseas mission projects in order to identify the areas that have the most pressing need for support, and he keeps our extended community of mission friends up to date with the work being done by our missionaries across the globe, showing people exactly how much of a difference their donations are making in regions of real need around the world.
Fr John, a Kerryman, ordained in 1985, has spent his life with the Missionaries of the Sacred Heart in a variety of different roles. Always working in Ireland, he has spent many years in retreat and parish mission ministry and has served as Parish Priest for many years in Western Road, Cork. Fr John also serves as the Deputy Provincial of the Missionaries of the Sacred Heart in Ireland. Fr John works alongside the Provincial, Fr Carl Tranter, and the Provincial Leadership Team to ensure the smooth operation of the Irish Province of the MSC.