Humble beginnings
The story of the Missionaries of the Sacred Heart dates back to the 19th century, when a young priest named Jules Chevalier sparked a single flame of hope and love that still burns brightly today. His aim was a simple one: to share the message of God's love with the world around him.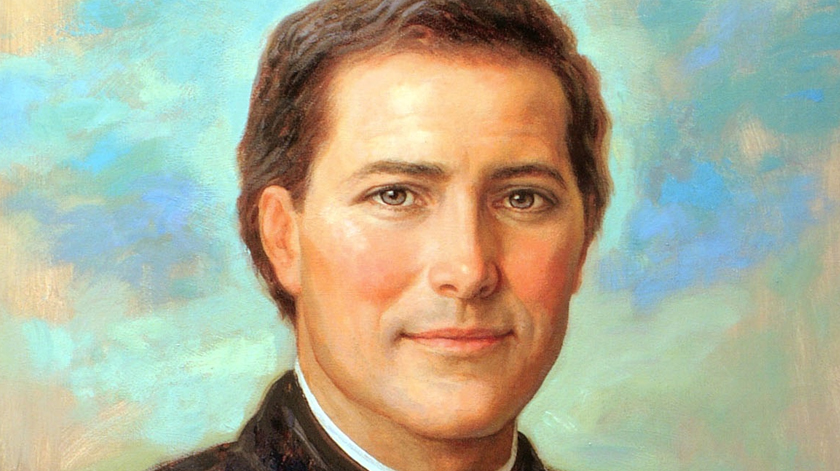 Jules Chevalier was born and raised in Richelieu, a small town nestled in the French countryside south-west of Paris. Born on March 15th, 1824, his upbringing was influenced by a combination of factors.
His father, Jean Charles, was an educated man who held no religious beliefs, and who failed to find success in either trade or business. Jules' mother, Louise Oury, was not a lady of letters; she had never been to school, and could not read or write, but she had a deep-rooted faith which she passed on to her son. As a child, then, Jules learned to read and write at the hand of his father, while hearing the message of God's love from his mother, and so began the path to priesthood for the young Chevalier.
Jules' decision to enter religious life was not a welcome one. His family struggled with their financial circumstances, and funding a seminary education was beyond their resources. Jules left school early and worked as an apprentice to a shoemaker; at the age of 17, however, a generous gesture from his father's employer allowed Jules to fulfil his vocation and begin his life of religious instruction in the diocesan minor seminary.
Aspiration and ambition
While Jules applied himself to his seminary studies, the country was in a state of flux following the French Revolution. Groups of his countrymen were rallying in an attempt to restore France's pre-Revolution values, while many others looked to the future, in ruthless pursuit of the new opportunities offered by post-Revolution society. With this state of general unrest came apathy, resentment, and an antagonism towards any form of religious guidance.
Chevalier was amongst those who dreamt of a new world, but his were not dreams of greed and personal gain. Instead, Chevalier looked towards a world that was built on the experience of God's love in our lives.
Through his experiences and in his studies, Jules Chevalier had gained a greater understanding of the infinite love of God for the world and its people. He believed that if this love were to harnessed in an active faith, to be lived and believed on a daily basis, the people of the world would also begin to realise the force of the power that comes with this sort of love – a force strong enough to overcome any division that society might put in place between the rich and the poor, the powerful and the oppressed, or the privileged and the marginalised.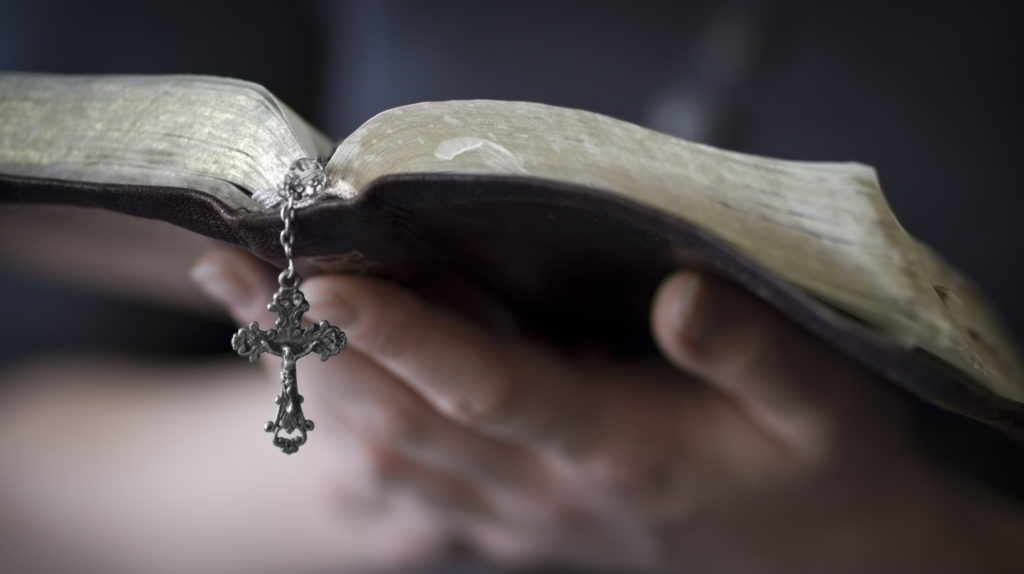 In the Gospel, Chevalier saw God's love for humankind expressed with utter clarity, as Jesus reached out to those who struggled against sickness, oppression, poverty, and discrimination, with a loving heart and without judgement. Inspired by this love, Chevalier set his sights on a new goal: bringing together like-minded people, incorporating priests, religious, and lay associates, who would work to bring this message of faith and love to the world around them – a world mired in bitterness, hopelessness, and despair.
"Two wounds are corrupting our unfortunate world: indifference and selfishness. An effective remedy is needed that can be applied to these two evils. This remedy is found in the Sacred Heart of Jesus, who is simply love. People will be needed who will work to make him known. They will bear the name: Missionaries of the Sacred Heart."
A shared vision
Following his ordination, Chevalier served as a curate in three different parishes in quick succession. When he was 30 years old, he was sent to Issoudun – a small town which was recognised as being the most de-Christianised community in the entire diocese. The other curate in the parish was Fr Emile Maugenest, a man who had been one of Chevalier's closest friends in the seminary, and one who had shared in his vision. Fr Chevalier and Fr Maugenest joined forces, and together, they set about restoring that which had been lost in Issoudun by founding the first society of Missionaries of the Sacred Heart of Jesus.
The Bishop's Council, along with the other priests of the diocese, were less than enthusiastic about Fr Chevalier's missionary ambitions, and it was only the occurrence of a serious of "miraculous" events that turned the tide in Chevalier's favour and swayed the opinion of the bishop.
Fr Chevalier and Fr Maugenest prayed to be given a sign, to assure them that they were on the right path and to affirm that this was God's will. This sign came on December 8th, 1854 – the day on which the Pope was due to pronounce the doctrine of the Immaculate Conception of Our Lady. For a period of nine days leading up to this, the two priests prayed a Novena to the Blessed Virgin, asking her to intercede for them as they waited in hopeful and prayerful anticipation for their sign.
On the morning after they had completed the Novena, one of their parishioners visited the presbytery, bearing a letter which promised a gift of 20,000 French Francs from an anonymous donor. The donor specified that they wanted to money to be used for a particular purpose: to establish a house of missionaries in the area, with the approval of the Archbishop. The Archbishop agreed, on the condition that the missionary order would have some way of supporting itself financially, and the pair returned to prayer. Shortly afterwards, a second anonymous benefactor pledged an annual donation of 1,000 Francs; this was enough money for both Fr Chevalier and Fr Maungenest to live comfortably on, and they rejoiced in having both the desired sign, and the necessary means, to begin their missionary society.
The two priests used the initial donation to purchase a dilapidated vineyard, complete with a house and a barn. This house became their first community house, while the barn was renovated to become the first MSC chapel before being converted into the Basilica of Our Lady of the Sacred Heart, which still stands in Issoudun today. From these simple beginnings, in a renovated barn in rural France, a whole family of Missionaries of the Sacred Heart has grown, with priests, brothers, sisters, and lay associates working towards a shared vision across the globe.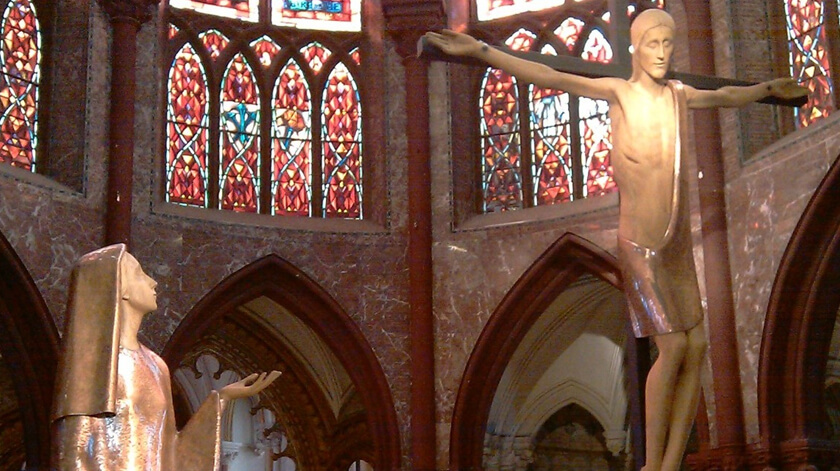 A worldwide endeavour
The late 19th century was a turbulent period, and an increasing awareness of religious persecution in France meant that many religious congregations, including the Missionaries of the Sacred Heart, were forced to flee the country and find sanctuary in other parts of Europe. Instead of crushing the fledgling MSC congregation, however, this simply served as an opportunity for the enterprising Missionaries of the Sacred Heart to expand throughout Europe, and embark on their first missions in the developing world.
Despite meagre financial resources and a lack of men, Fr Chevalier took responsibility for the missions of Oceania (now Papua New Guinea) in 1881. Within 25 years, the Missionaries of the Sacred Heart had gained a considerable presence across Europe and in North America, and before his death in 1907, Fr Chevalier saw his vision being carried out by his missionary family in Central and South America, Indonesia, Australia, and the Pacific Islands.
The growth of the MSC community continued following Fr Chevalier's death, and in 2004, our missionaries proudly celebrated the 150th anniversary of the Missionaries of the Sacred Heart in our provinces and parishes across the world. Today, the extended family of Fr Chevalier, incorporating the Missionaries of the Sacred Heart, the Daughters of Our Lady of the Sacred Heart, the Missionary Sisters of the Sacred Heart, and MSC lay associates, are present in over 50 countries across Europe, Asia, Africa, New Guinea, and America. Our missionary priests, brothers, sisters, and lay associates continue to demonstrate our enduring commitment to showing God's love to all who need it, no matter where and how they are suffering.
On the 150th anniversary of the MSC Congregation, Pope John Paul II celebrated the ongoing work of the Missionaries of the Sacred Heart:
"Father Chevalier saw the Sacred Heart of Jesus as the meeting place between God and mankind. Indeed, it is from Jesus' heart that God's love is lavished upon men and women; it is in Jesus' heart that humanity is reconciled to God. Jesus invites us to a 'spirituality of the heart' in imitation of his own surrender, obedience, courage, fidelity and love.

It is my fervent hope that you, dear Brothers, will continue to draw inspiration and strength from this spirituality and from your Founder's charism as you fulfil your vocation in the Church and in the world.

You have not only a glorious history to remember and to recount, but also a great history still to be accomplished! Look to the future, where the Spirit is sending you in order to do even greater things."