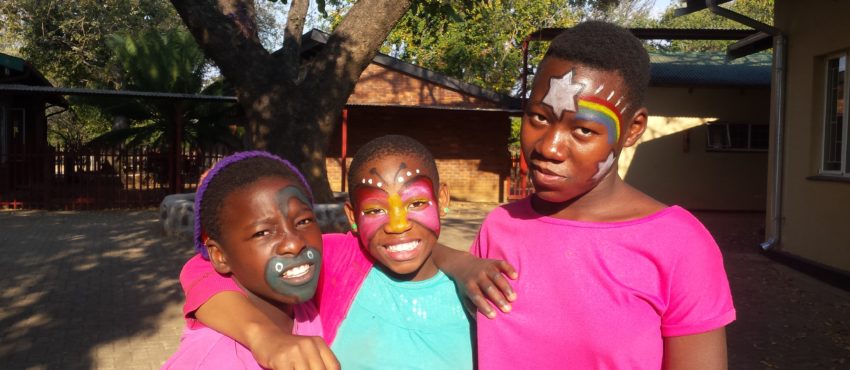 Would you like to be an agent of change in the world? Our Volunteer Programme could be perfect for you.
Would you like to make a real difference?
Have you ever felt like taking time out from college or work, and trying something completely different? Would you like to step out of your comfort zone, and be an agent of change in the world through overseas volunteering? Do you want to make a difference in the lives of struggling communities across the globe? The Missionaries of the Sacred Heart Volunteer Programme (MSCVP) could be just the thing you've been looking for.
The Missionaries of the Sacred Heart minister in over 50 countries all over the world, with bases in a wide variety of different areas including schools, parishes, hospitals, and prisons. Our volunteer programme gives people between the ages of 23 and 40 the opportunity to spend some time living and working in some of these locations, contributing to our missionary projects and making positive changes in the lives of people who live in conditions of extreme poverty.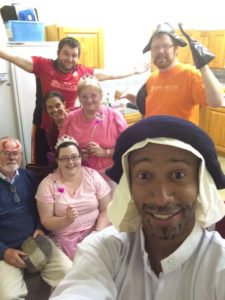 Through our volunteer programme, you will have the chance to work with a like-minded group in a community that needs your skills, your talents, and your enthusiasm. This is an experience that focuses on working in partnership with others, teaching and learning as you go, and sharing your skills in a way that makes a real difference in the world.
Volunteering on a missionary project is not a one-way street, but promotes a sense of appreciation, fulfilment, and satisfaction on a number of different levels for both the volunteers and the communities they visit. Help is given to those who need it, but the volunteering experience is so much more than that as volunteers encounter new challenges and triumphs, build new friendships, and make memories that will last a lifetime.
The main goals of the MSCVP are:
To provide enriching, challenging, and meaningful short-term voluntary experiences.
To share the valuable skills and talents of our volunteers with our partner projects.
To work towards promoting responsible volunteering in our partner projects in South Africa.
To allow enthusiastic, talented individuals to use their abilities in a positive and productive way, in a mutually beneficial experience.
We would be delighted to hear from men and women between the ages of 23 and 40, who are interested in undertaking overseas volunteering work during the summer months. Specialised skill sets, such as teaching, mechanics, carpentry, nursing, electrics, or medicine are extremely welcome, and each applicant will be assessed on their own individual merits.
Please note that all necessary preparatory training will be provided. This eight-week trip usually costs approximately €3,000 in total, with volunteers asked to contribute €1,500, and the balance covered by the MSC. This covers flights, food, accommodation, insurance, transfers, and training.
Where we work
One of the main locations for our volunteer programme is the Holy Family Care Centre, situated at the foot of the Drakensberg Mountains in Ofcolaco, in the Limpopo Province of South Africa. This centre cares for the sick and the vulnerable, especially orphaned children with HIV/AIDS and TB.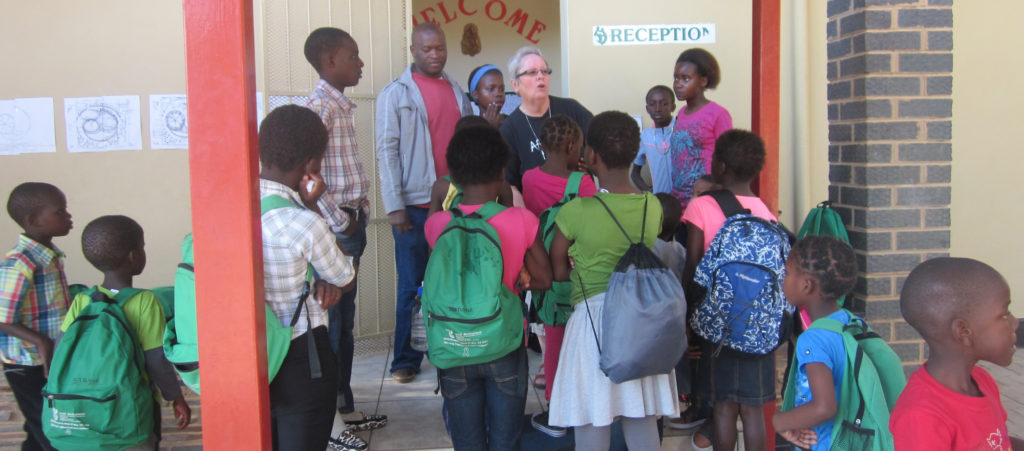 The Holy Family Care Centre has the capacity to accommodate 70 children, ranging in age from infants to teenagers, and they are usually stretched to their limits in terms of resources. The centre, however, is about far more than just basic food, accommodation, and healthcare – it doesn't just provide a house for these children, it provides a home filled with life and joy, and volunteer workers are an integral part of this.
The centre is run by our sister congregation, the Daughters of Our Lady of the Sacred Heart. The sisters work with a dedicated team made up of staff and volunteers who work tirelessly to provide a welcoming, loving environment for the children in their care.
The Holy Family Care Centre is just one example of the projects on which we work, where we would welcome the additional help of enthusiastic volunteers. We aim to provide a wide range of volunteering experiences, involving everything from education to medical care, while also working with partners who follow the highest standards of care.
The nature of the volunteer work you undertake will endeavour to engage your particular skill set, while also incorporating the day-to-day duties and tasks involved in life on a missionary project. Most importantly, the time you spend with the Missionaries of the Sacred Heart Volunteer Programme will provide you with an experience that is rewarding and unforgettable in equal parts, benefitting you and the people whose lives are touched by your support.
So, what's it really like to work with the MSCVP?
"More so than any other time in my life… I laughed! Every day the kids found new ways to just make us laugh! Whether we were on an imaginary Safari inside the fence of the centre, hitching a lift in a car made from a piece of wire and an old shoe, or chasing the crèche children who never wanted to go to bed, we laughed! A beautiful place, a great team and the most adorable children on the planet made for a summer I will cherish dearly!"
~ Karen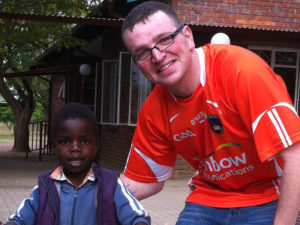 "Working with the kids has been absolutely outstanding. They're so full of life and energy – they keep you on your toes, and the kids are great at helping in any way they can. The feeling when you see the kids laugh and smile, you can't put a price on it. It's just the greatest feeling in the world."
~ Kevin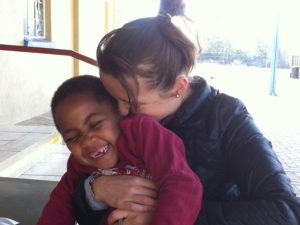 "We have really got to know all the kids and workers here at Holy Family over the past months. We can recognise the voices calling out for us at our gate, the different cries of the crèche children, and the different laughs that echo around the centre. We opened our hearts fully and really connected with each and every one. We have learned more from them than they have from us and boy oh boy, can these kids teach you a thing or two."
~ Joanie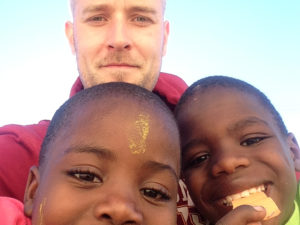 "When I look back at my time at Holy Family, most of our visit was simply spent just spending time with these young South Africans. The real volunteering was sitting about in the spring sunshine, talking or watching videos on my iPhone. The real volunteering was being the big brother or sister that was never there. The real volunteering was being the role model absent from their lives as they grew and continue to grow.
The truth is, it didn't really matter what activities we did with the kids as long as we were with them and for them. As long as someone wanted to spend time with them and show them that they really cared, then it really didn't matter whether we played football for twenty minutes or sat idly on the withered grass for two hours. When you see so many children with joy on their faces, just because you are there with them in the moment, it's then you realise that your small contribution is making hearts big. When you become aware of the sadness in your own heart as you leave this special place behind, then you see that these little ones are making your world big."
~ Mark
…And that's just the tip of the iceberg. You'll find more stories and reflections from MSCs and past volunteers at our MSC Vocations blog.
Want to know more?
If you'd like to find out more about the Missionaries of the Sacred Heart Volunteer Programme, please feel free to get in touch. You can contact Fr Alan Neville MSC by phone on +353 (0) 86 785 7955 (Ireland) or +44 (0) 75 2676 4236 (UK), or by email at vocations@mscmissions.ie.
FIND OUT MORE ABOUT WHAT IT'S LIKE TO VOLUNTEER WITH THE MSC
The MSC Volunteer Programme supports best practice in volunteering, and upholds the Comhlamh's Code of Good Practice. Comhlámh's Code of Good Practice is a set of standards for Irish Volunteer Sending Agencies facilitating international placements. The Code is based on a vision of volunteers working in solidarity for a just, equitable and sustainable world. It promotes responsible and responsive volunteering to ensure a positive impact for the overseas project and community, the volunteer and the sending agency. The Code promotes development education, which enables people to more deeply understand the world around them and to address the root causes of inequality and poverty. Every Volunteer Sending Agency, which is party to the Code of Good Practice, commits to the implementation of the Code's five values that underpin the work of international volunteer programmes. These are solidarity, respect, social justice, ecological sustainability and integrity. Full details of the Code of Good Practice can be found here.
Comhlámh is a member organisation that works to mobilise for an equitable and sustainable world. As the Irish association of development workers and volunteers, Comhlámh promotes responsible
international volunteering and development work. We support people in their journey of working for social justice. We work with returned volunteers, partner organisations and member group to foster just, inclusive societies, through progressive grassroots activism in Ireland and internationally. More details of Comhlámh work can be found here.

We are also signatories of the Dóchas Code of Best Practice. If you have any queries or issues about our application of either the Comhlamh or Dóchas Code of Best Practice, please do not hesitate to contact us and we will be happy to address this.
As part of our commitment to best practice in child safeguarding, all successful applicants to the MSCVP must complete a Garda vetting check (in Ireland) or a Disclosure and Barring Service check (in the UK).