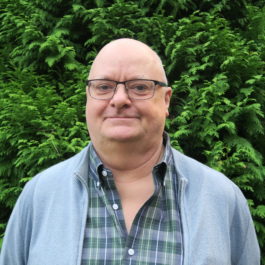 Fr Mike Serrage
Missionaries of the Sacred Heart
Fr Mike Serrage's life with the Missionaries of the Sacred Heart began in 1986 when he travelled to Co Galway to begin his formation. Fr Mike comes from Tamworth and it was here where he first encountered the Missionaries of the Sacred Heart as they arrived in his home parish in the 1970's. He was drawn by their humanity and compassion, values that still inspire him today.
After formation Fr Mike spent seven fruitful years in our school in England, Princethorpe College, as chaplain. During this time he was also developing a deeper understanding of spirituality which is embodied in the phrase 'to be on earth the heart of Christ'. Fr Mike became more involved in the world of retreats and spiritual accompaniment. To further develop this Fr Mike moved to our retreat house, Grace Dieu, in Waterford. He was very happy during his ten years in Waterford and there was a sense of sadness when the house closed in 2011. However, now based in Dublin, Fr Mike continues to be involved in the area of spirituality and retreats and finds a deep level of fulfillment and contentment.
"I am looking forward to being a part of the Provincial Leadership Team over the next six years and I pray it may be a blessed time for all."