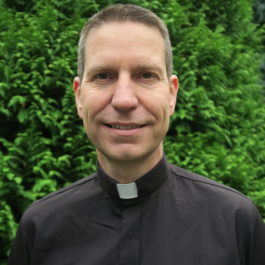 Fr Carl Tranter
Missionaries of the Sacred Heart
Fr Carl was born in 1965 in Leamington Spa, Warwickshire, England, and was educated by the Missionaries of the Sacred Heart at Princethorpe College. After a couple of years working in banking, he began his formation with the MSC in Ireland in 1986 and was professed in 1989. He was ordained to the priesthood in 1993.
Fr Carl began his ministerial life in the parish of St John the Baptist, Tamworth, Staffordshire. In 1998, he commenced further studies in adult education and pastoral theology in Boston College, Boston, USA. For the following five years, he was involved in the formation of laity and clergy for collaborative ministry across all the territories of the Irish Province.
In 2005, Fr Carl was appointed superior of an international MSC community living a ministry of presence in a poor, multicultural, and troubled neighbourhood of the city of Birmingham, UK.  From 2011 to 2017 he served Assistant Superior General of the MSC Congregation and a member of the General Council in Rome. During this time, he travelled extensively throughout the world visiting most of the 50 countries where the Missionaries of the Sacred Heart are ministering in all of the world's continents. Fr Carl brings with him a great variety of cultural and religious experience, which will enrich his leadership contribution to the Irish Province.